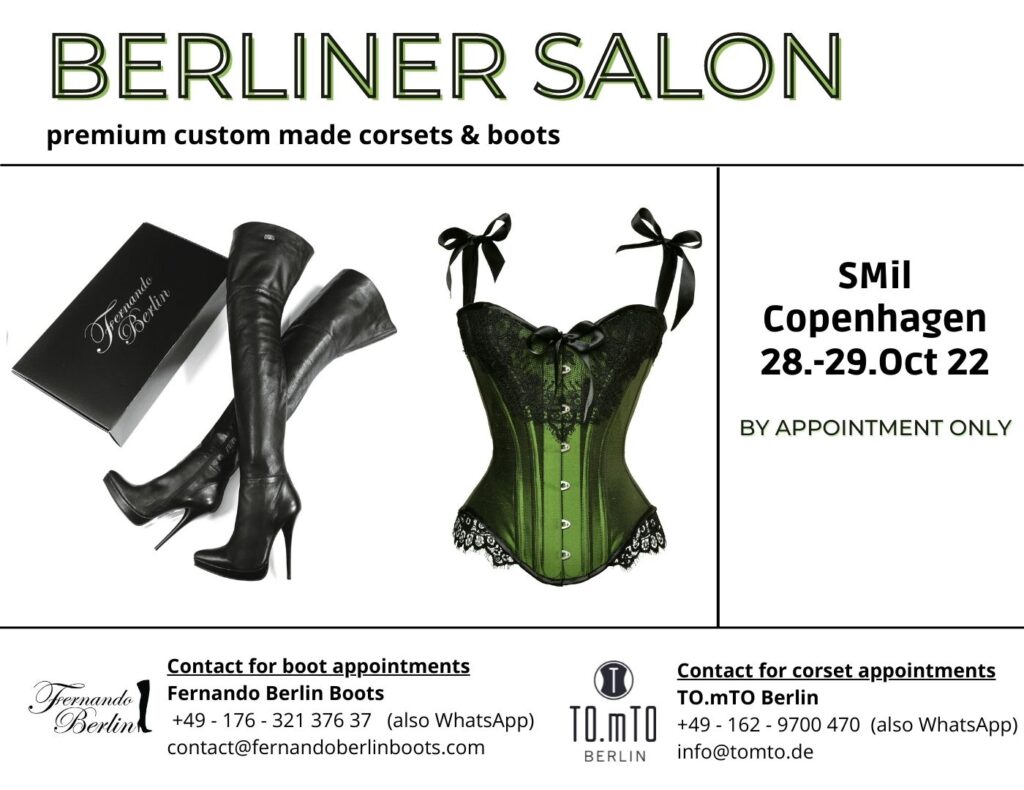 Copenhagen - 27. & 28.Oktober 2022
The bootmaker Fernando Berlin and the corset maker TO.mTO Berlin are two of the most well-known kinky brands in Germany. Both labels are offering bespoke, high-quality products. 
Together they beam their showrooms for two days to SMiL Copenhagen, to give you the opportunity to feel, try, buy and order these delicious boots and corsets without travelling to Berlin. 
As custom made clothing needs a lot of attention, Friday 28 & Saturday 29 October daytime, are only available by appointment. In return, you get a (almost) private 1-hour-consultation. 
As member of SMil, you can also join our Sneak-in-Salon at Friday night 20:00-23:00, where you can meet Tonia & Ferdinand plus team, see the wonderful work, try one or two corsets and boots, ask questions without any obligations – and book your date for Saturday, if you like ( if still available)! 
Salon  hours
We recommend to book as soon as possible – timeslots are limited  
 
Friday 28th 14:00 – 20:00 
Saturday 29th  11:00 – 18:00 
 
Sneak-in-Salon exclusively for Smil members 
Friday 28th 20:00 – 23:00 
___________________________________________________ 
 
Book your appointment at: 
TO.mTO Berlin 
Tel: ( until Wednesday 27.10.22) +49 – 30 – 9700 4733  
Mobile: (also WhatsApp) : +49 – 162 – 9700 470 
Fernando Boots 
Mobile (also WhatsApp) : +49 -1 76-321 376 37  
contact@fernandoberlinboots.com 
www.fernandoberlinboots.com